The Harsh Reality of Women Facing Obstetric Violence in Hospitals in India
"...in an Indian government hospital giving birth to a child is not a unit less than suffering the third degree torture in jails."
In December 2013, Dr. Varun Patel wrote a blog post about his year as an intern in a government hospital, an experience that went viral, raising a huge hue and cry in the medical industry along with it. It reminds us of the backlash that Aamir Khan and Satyamev Jayate faced when the show covered the corruption in the medical industry.
The reason for such a strong reaction is simple. Patel told the truth about the way patients are treated in government hospitals, and the stark difference in the bedside manner that the doctors exhibited with patients with the same situation in a private room and a government hospital. The worst treatment is reserved for women in labour.
As shocking as it sounds, obstetric violence is quite common, though rarely talked about. The Times of India reports that three infants died in Uttar Pradesh's Balia district "after their mothers were forced to deliver on the floor even though beds were available at the primary health centre," because the attendants didn't want to deal with the soiled sheets. The Balia case led the National Human Rights Commission to take suo moto cognizance and issue notices to the state government and other concerned officials. It would seem from this case that this kind of violence and lack of care is only seen in remote villages and small towns; however, this is seen quite frequently in big cities as well.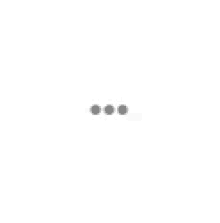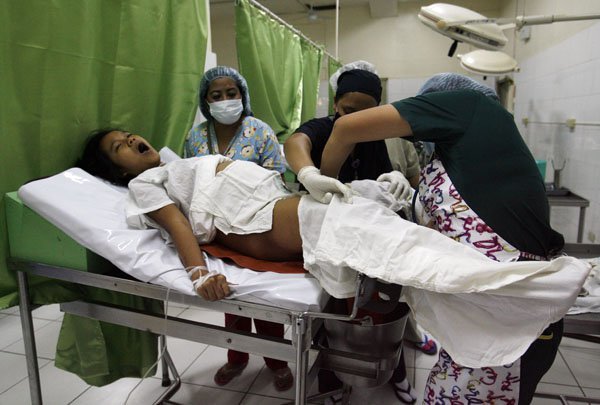 Patel's internship was in Sassoon Hospital in Pune, and there were reports of a hospital in Delhi where nurses threatened to slap a pregnant woman if she screamed during labour, and then handed her the unwashed body of her stillborn child in a polythene bag. This led the Human Rights Law Network to file a case in the Delhi High Court, which ordered the Delhi government to pay the mother INR 10,000 as an interim measure, with the next hearing scheduled for January 2016.
Scroll's Sohini Chattopadhyay went undercover in a large government hospital to see the truth behind the stories of labour room violence. The stories she tells us explain exactly why women who cannot afford private hospitals would rather deliver their babies at home than go to a government hospital. As someone else in the same article said, "We actually handle our goats and buffaloes with more care."
"...around 8 pm, Romit is back accompanied by a young lady doctor, Shikha, who is in charge of the delivery. Romit is a house staffer – an MBBS graduate of the college – while Shikha is a postgraduate student. It is time, they decided. The man pulls up a step-ladder to Munmun's side, climbs up and pushes down with both hands on Munmun's stomach without telling her. She gasped, and half sat up in pain.
'Lie back right now,' barks Shikha from the foot of the table. 'We have to do the pushing for you because you are not. Ekdum jhamela korbe naa [Don't make trouble].'
Romit injects her with a local anaesthetic, and goes back to pushing. Shikha is joined by an MBBS intern who looks distraught. 'What I will do now is an episiotomy,' she explains. 'See, this is the perineum [the area between the vagina and the anus]. We need to make a small cut here to enlarge the passage for the baby.'"
Episiotomies are not all that beneficial, and doctors are legally obligated to explain every procedure to the patient before they do it, while here, episiotomies seem routine, and no doctor bothers to explain anything to any of the expectant mothers.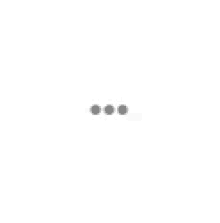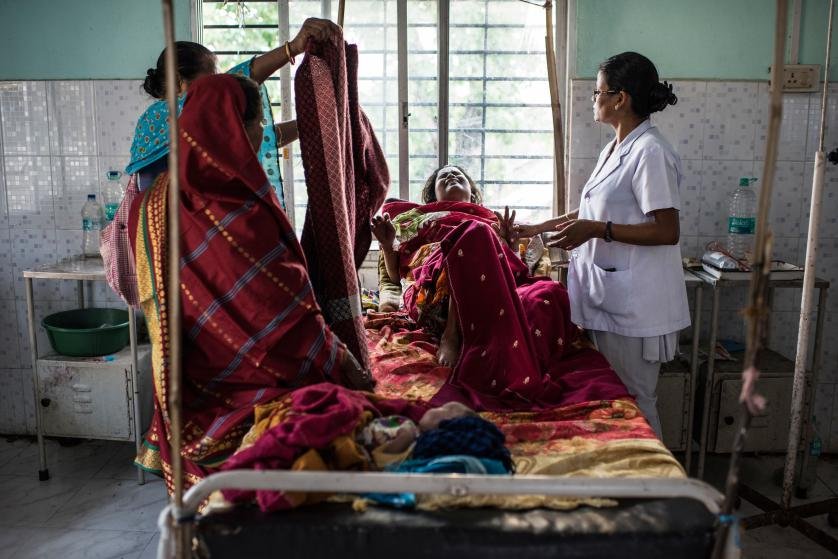 The Human Rights Law Network has filed around 150 cases in 14 states, each dealing with different kinds of violation of reproductive rights. These cases have received favourable judgements, but it doesn't mean there has been much change in the attitude that led to these cases in the first place. Sarita Barpanda, the director of HRLN's Reproductive Rights Unit says, "There is also an endemic attitudinal problem towards the poor, but it is wrong to fix the blame at the lower level of health providers such as nurses and ward attendants. People at the top are supposed to be monitoring the services but that monitoring is completely absent."
The Janani Suraksha Yojana pays pregnant women to give birth in hospitals in an effort to discourage home births. It has been working well, in that the hospital deliveries have gone up from 40% to 80% . However, this does not mean that the scheme ensures that the women receive a higher degree of care. It does quite the opposite, in fact. This simply leads to a greater number of institutional deliveries, but also to a shortage of staff who come with poor training.
Let's not assume that this happens only in India. Earlier this year, there was an instance where a perfectly lucid young woman had to undergo a forced episiotomy in spite of her repeated insistence that she not be given one. A Spanish doctor took a selfie with his patient's vagina during childbirth, and uploaded it to his Instagram account. Studies have shown that sexual abuse, physical abuse, verbal abuse, stigma and discrimination based on age, ethnicity, socioeconomic status, and medical conditions took place globally.
The Scroll article details the kind of language used for the women in labour, where they had to hear things like, "Why are you screaming now, weren't you screaming in pleasure when you were getting fucked?" or "Why don't you open your legs now, you weren't so shy when you got pregnant." Delivering a baby is difficult enough, and then having to hear horror stories of this sort makes us wonder about the point of the Hippocratic oath. If women are going to the point of trusting their lives in the hands of these doctors, the least they can do is to treat them like human beings, instead of just inanimate bodies they can take their frustration out on. We're only just finding out that instances of obstetric violence are rampant, and most go unreported, with many women believing this is the norm and there is no other way. How many women are supposed to undergo this type of violence, and lose agency over their own bodies, till someone understands that it is simply wrong, and that things need to change?