8 Times Women Athletes Were Asked Stupid, Sexist Questions That Had Nothing to Do with the Game
There are many spheres of life which have historically been dominated by men. Even though a lot of women are excelling at it, the world of sports is still perceived to be the arena of men. This is apparent in the kind of media coverage that female sportspersons get, as opposed to male sportspersons. Women have always been judged on their bodies, not achievements, and even though many of them have gone ahead and broken gender stereotypes, the bias is transparent in the kind of questions people ask female athletes. Here are some cringe-worthy examples.
Cricket
Recently, ahead of the ICC Women's cricket championship, the captain of the Indian cricket team, Mithali Raj, was asked who her favourite male cricketer was.
Superb response from Indian skipper Mithali Raj. Asked by a reporter who her favourite male player is: "Would you ask a man that?" 👊🏻 #WWC17 pic.twitter.com/RqgVLzXp46


— Adam Collins (@collinsadam) June 22, 2017
She replied with a passionate and opinionated answer, which put the reporter in place, while calling out the misogyny in sports coverage.
Tennis
We've seen it happen all too often on the red carpet: female celebs are asked "who are you wearing" instead of questions about their work. These double standards extend to the sports industry, too. Serena Williams is one of the best athletes of this generation, and she has had to fight racist and well as sexist comments throughout her career. It's almost as if being the best at the game is not enough for a woman. She has to be well-dressed, courteous, and smiling.
When a reporter asked her why she wasn't smiling after a hard match, she called out the ridiculous question.
Eugenie Bouchard's jaw dropped a little, and her eyes went wide, when the male presenter conducting her on-court interview at the Australian Open made an unusual request: "Can you give us a twirl?" Serena was asked the same question. It happened at the 2015 Australian Open; the announcer asked both athletes, ranked numbers 1 and 26 in singles tennis in the world respectively, to twirl following their second-round matches.
Hockey
Hockey is an aggressive game, and women are seen as fragile creatures who are not capable of displaying strength. This misconception is busted by this women's hockey team, who answer some of the questions that they have been asked over the years.
Swimming
Presented without comment. https://t.co/K2qf7UNYOh HT @deborahblum pic.twitter.com/ECoFHGsLRR


— Maria Konnikova (@mkonnikova) August 15, 2016
"Removing your body hair gives you an edge in the pool, what about your love life?" A swimmer was asked this question during the Olympics.

The Olympics matter because it's one of the few times we're allowed to see young women unapologetically enjoy being the best.


— Libby Hill (@midwestspitfire) August 13, 2016
Dana Vollmer has been highlighted for her ability to have children and return to swimming in a news article. ABC News touted Vollmer's impressive performance in the pool thus far with the headline "New Mom Dana Vollmer Wins Silver And Bronze, Sets Sights On Gold In Rio," as if her full name was 'New Mom Dana Vollmer.'
Volleyball
The mayor of London said that Olympic beach volleyball athletes are "semi-naked women" who "glisten like wet otters." This was supposed to be the incentive for following the 2012 London Olympics.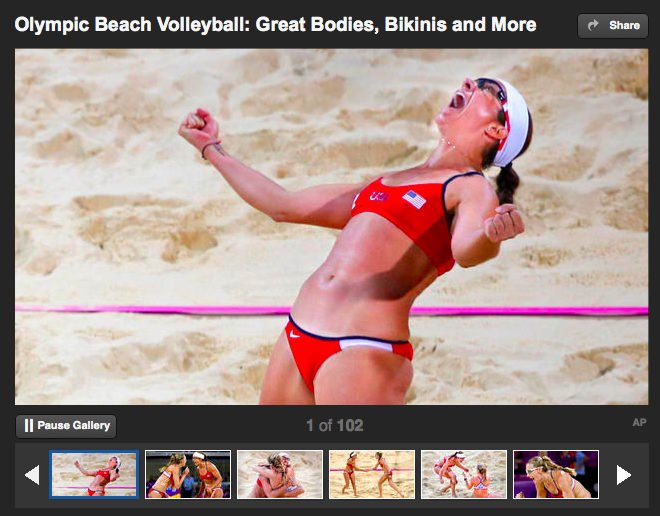 Female volleyball players have been sexualised for years by newspapers, online media, and television news. Many publications make sexist and inappropriate comments about the lives of the players as well. The English-language Korea Times ran a story during the Olympics Volleyball matches, speculating on the love life of 6-foot-3 Kim Yeon-goung.
BBC, meanwhile, focused extensively on the uniform choices of the Egyptian and German women's volleyball squads, labeling their match "Bikini vs Burka," instead of focusing on their game.
Hey I've got a crazy idea: how about "athlete vs athlete"? pic.twitter.com/I9v10YOFRm

— Hend Amry (@LibyaLiberty) August 8, 2016
To call out the stupid questions that female athletes are asked, there was a #CoverTheAthlete movement, where male athletes were asked the exact same questions that female athletes were asked. The look of surprise on their faces is answer enough for all those who do not see the sexism in the way male and female athletes are covered by the media.
It's time to demand media coverage that focuses on the athlete and her performance, not her hair, clothes, or body.