Feminism In Pictures: Women's Rights Movements Across The World
Feminism has been subjected to several misinterpretations over the years and denounced as an evil, out to destroy the world order. The concept of feminism is simple: equality for women. It doesn't demand superiority for women, it doesn't ask for men to be hated and evicted from every woman's life. Feminism demands that the right to choose how one should live her life be available to all people of all genders around the world. It demands an end to atrocities and gender-based violence.
Across the world, women's rights activists have been protesting against everything wrong in the world today, and they have made a huge difference. They have proven that even without the support of celebrities, the voice of the common people can make a few, but significant improvements in law and society. These are the many women and men who have stood up to absurd laws and dangerous practices that threaten women's lives, and become beacons of hope for their countries.
India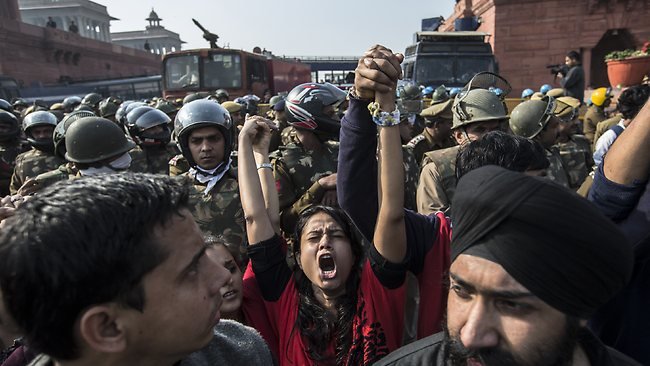 Source: theaustralian.com
Some of the largest protests India has ever seen erupted after a woman was gangraped in a moving bus in the country's capital in December 2012. The nationwide and international outcry prompted the government to make changes in the Indian Penal Code regarding sexual offences. But women's safety is still a contentious issue in a country ,among other concerns, marital rape is still not a crime because "marriage is sacred."
Ireland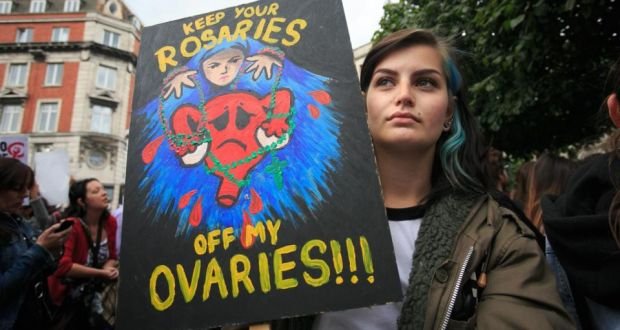 Source: irishtimes.com
When 31-year-old Indian Savita Halappanavar died in an Irish hospital after she was denied a medical termination, rights activists in Ireland renewed their protests against the outdated law on abortion. Women and pro-choice activists have long demanded that women should have a right to decide what to do with their bodies.
Tanzania
Source: vagabomb.com
Battling oppression and sexual violence for decades, women in Zanzibar's villages have now taken matters in their own hands. The "solar mamas" are one such example. Trained by an Indian NGO, these previously uneducated women have studied solar engineering, dentistry, mechanics, public health, and radio operations. The 13 women known as "solar mamas" have electrified about 600 households in Zanzibar.
Australia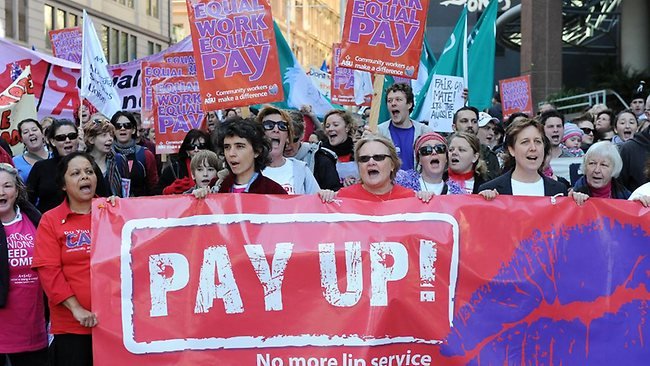 Source: news.com.au
In 2015, the gender-based wage gap reached record levels in Australia, with women being paid nearly $300 less than men. For decades, women in Australia and other countries have demanded equal pay for equal work among men and women.
China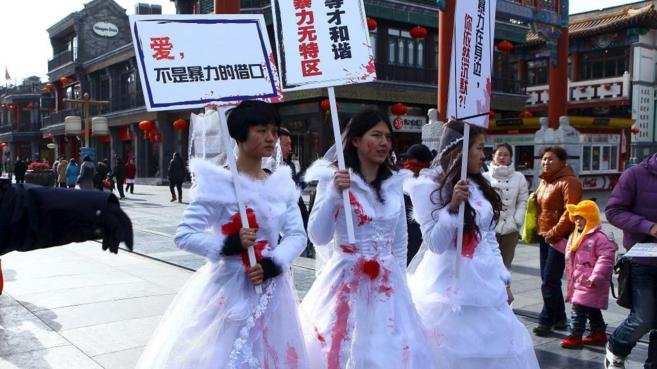 Source: elmundo.es
Termed 'guerrilla feminists,' a group of five women in China have protested against the growing incidents of violence and discrimination against women. In the picture above, they used wedding dresses with red paint as a symbol of domestic violence faced by Chinese women. Before a planned protest on Women's Day, Li Tingting, Wang Man, Wei Tingting, Wu Rongrong, and Zheng Churan were detained for over a month.
South Korea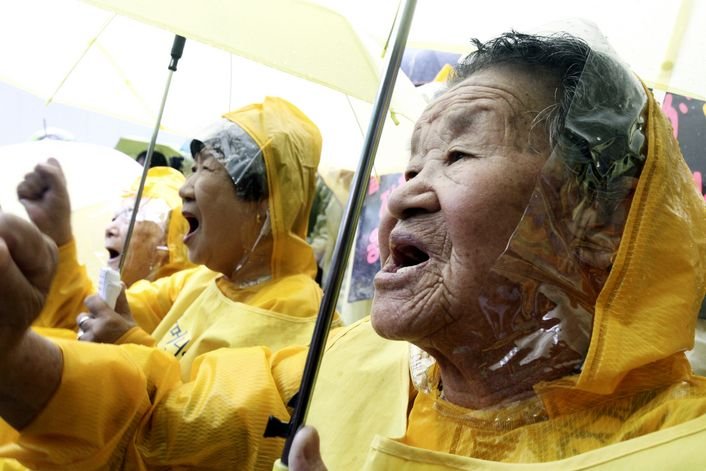 Source: pinterest
Every week, a group of elderly women gather outside the Japanese Embassy in Seoul, demanding an apology from the government. These women were known as 'comfort women' by the Japanese during World War II. The mild name, however, does not come close to the atrocities they witnessed when they were forced to work in military brothels during the war. The Japanese government has downplayed the existence of such women and has refused to tender an apology.
Russia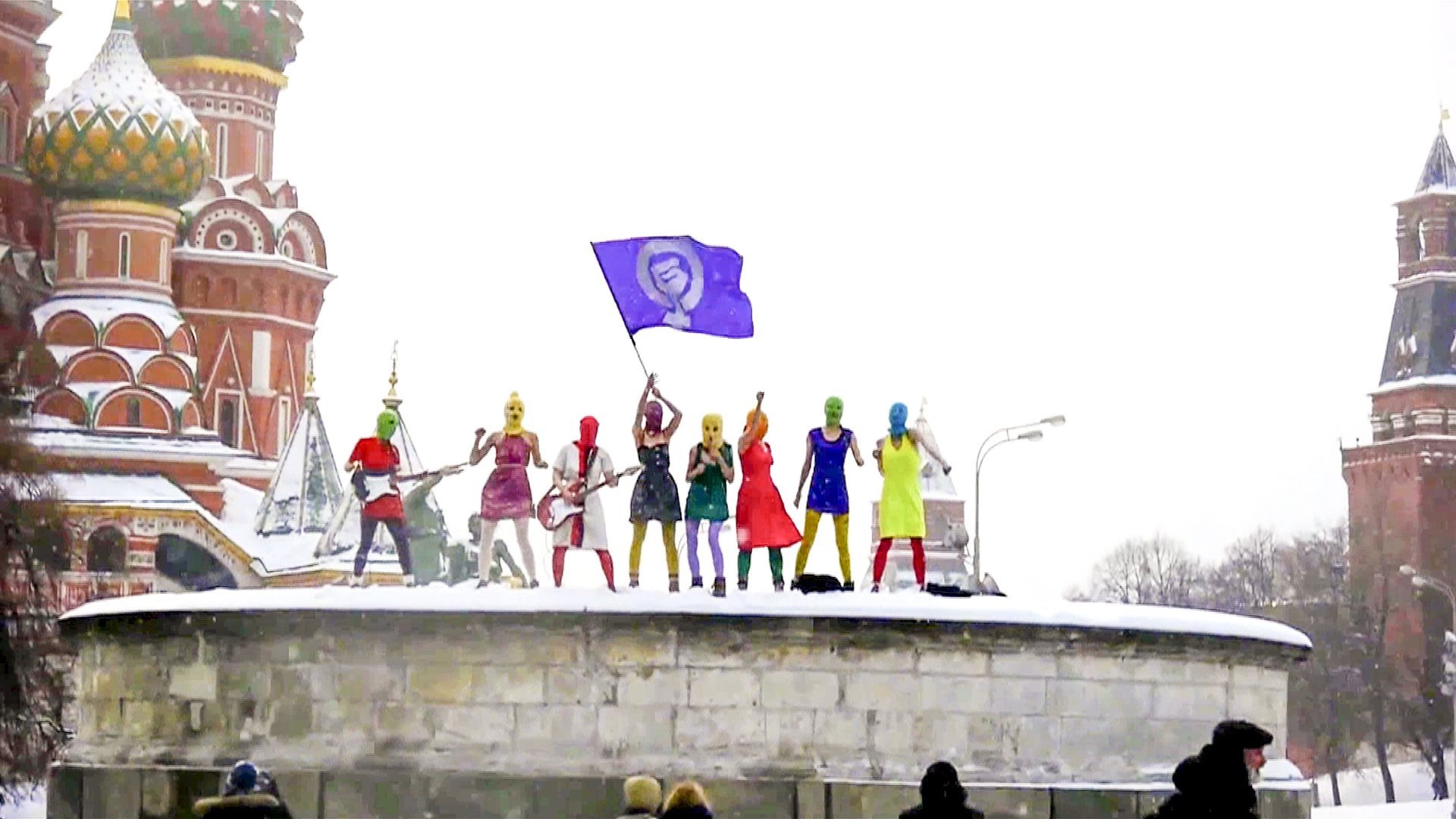 Source: wordpress
Punk rock protest group Pussy Riot became the symbol of protest and women's rights in 21st century Russia. Known for their impromptu public performances, three members of the group were sent to prison for hooliganism. The group garnered international support, including from western governments and celebrities.
United States of America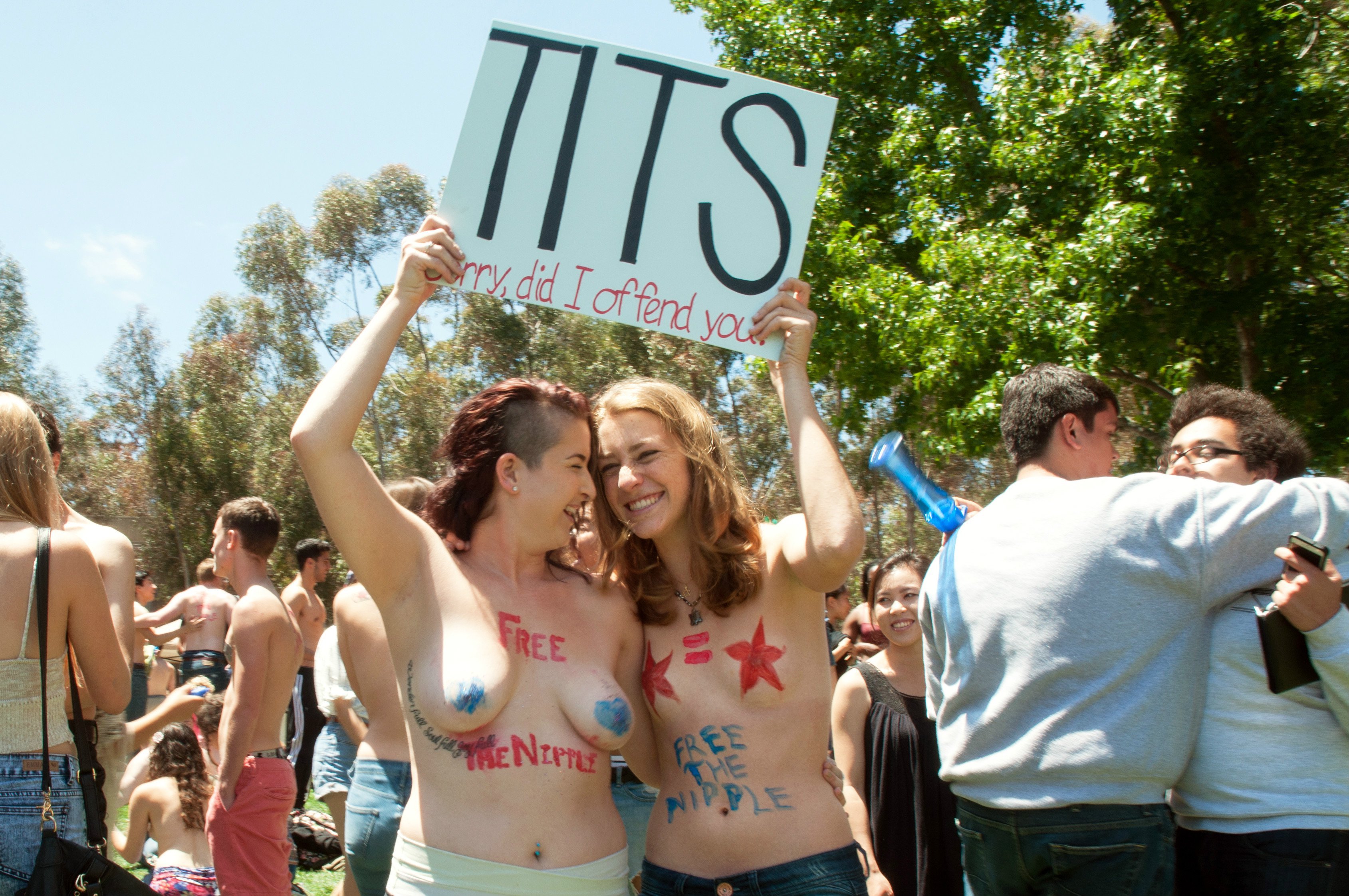 Source: ucsdguardian.org
Originating in the US, the movement to stop shaming and hiding women's bodies has gained traction across the world. From social media to the streets, women have been campaigning for the same freedom that men enjoy - the freedom to go topless without being harassed or attacked .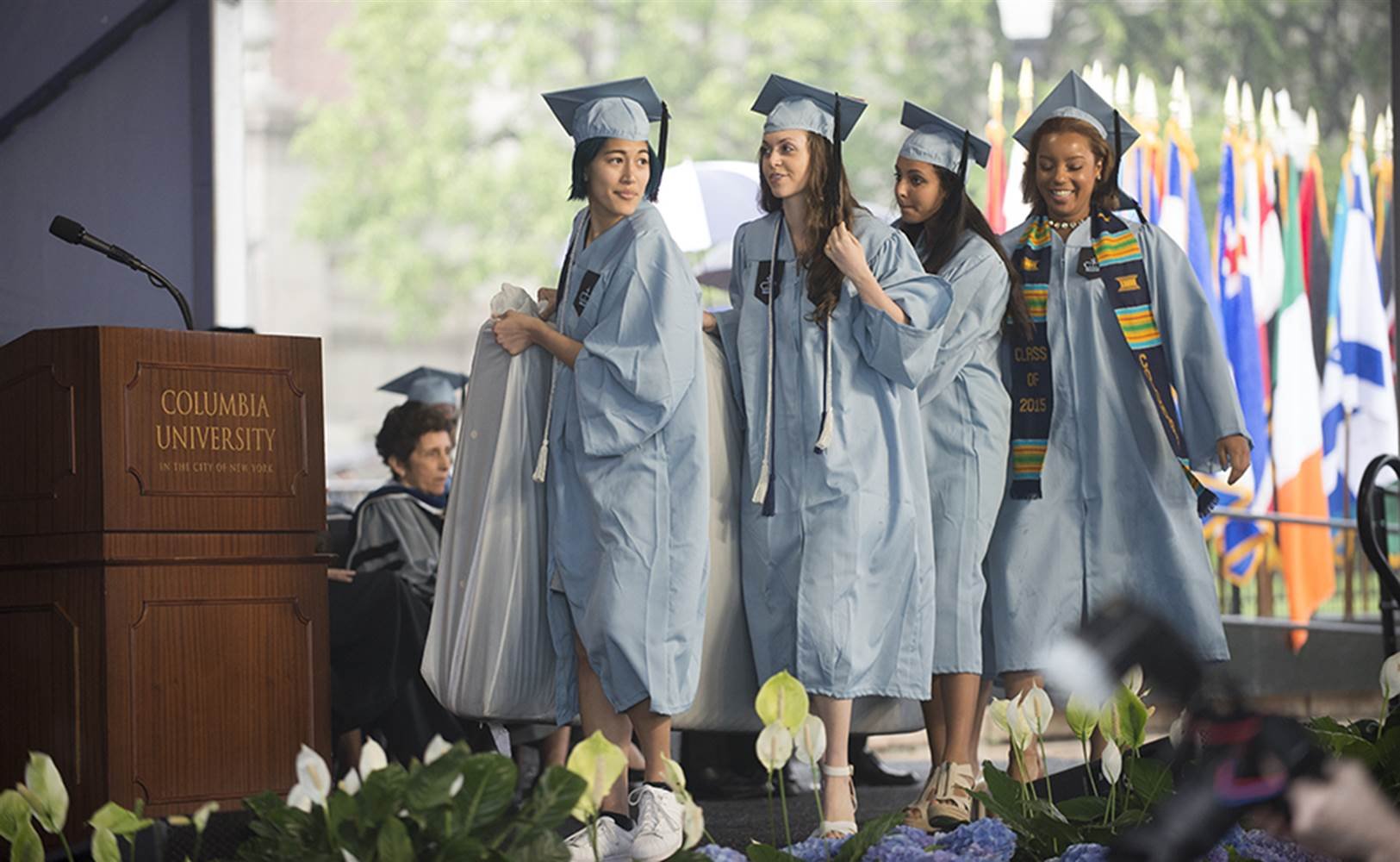 Source: vagabomb.com
When Emma Sulkowicz accused a fellow Columbia student of raping her, she was shamed by the authorities, while the accused was cleared of all charges. As a form of protest, she started carrying a mattress with her during her entire course. Sulkowicz said she would stop when the accused was expelled and she would carry the mattress to graduation if needed, which she did, assisted by supporters. Campus rape and victim blaming by concerned universities is still a real concern in the USA and continues to be the subject of protests.
Ukraine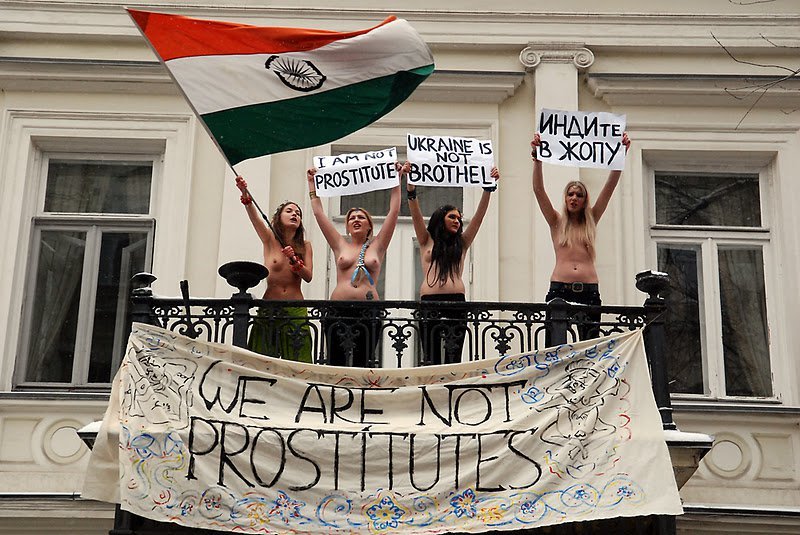 Source: blogspot
One of the first organised feminist groups in Ukraine, FEMEN have made headlines with their topless protests. One of their main aims is to eliminate the association of prostitution with Ukraine. In 2012, when India wanted to limit the entrance of Ukrainian, Russian, and Kazakh women in the country, FEMEN activists protested topless at the Indian embassy in Kiev.
Kazakhstan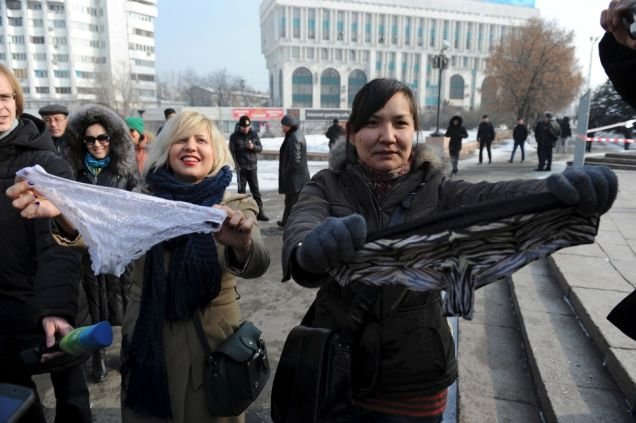 Source: gawker
In 2014, Kazakhstan, Russia, and Belarus decided to ban lace underwear. Challenging the ban, groups of women waved their lace underwear as part of a "Panties for the President" protest. The government said they banned this type of underwear because "it doesn't absorb enough moisture."
Nigeria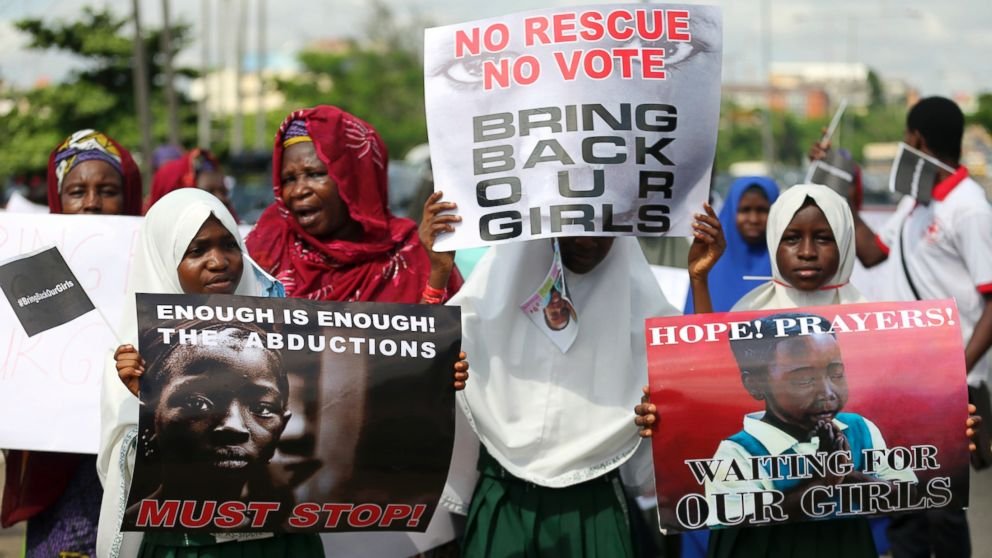 Source: abcnews.com
In 2014, over 270 girls were abducted from their school by Boko Haram terrorists in Nigeria. The country broke out in massive protests demanding the rescue of these girls. Around 50 girls had managed to escape but 219 still remain missing.
South Africa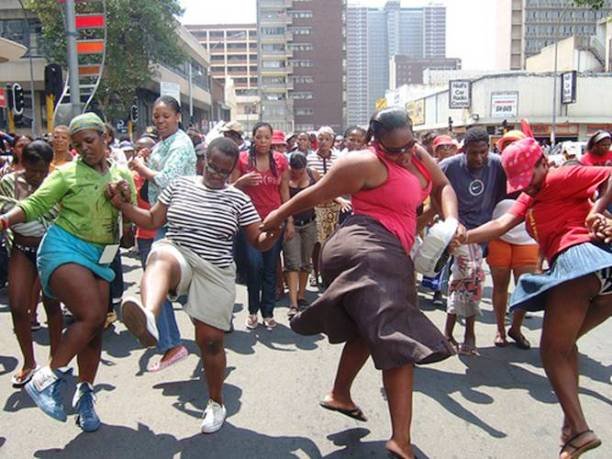 Source: africansearchlight.com
In 2012, hundreds of South African women marched in Johannesburg to protest against an attack on two women for wearing short skirts. The women were attacked by drivers while waiting for a bus. South Africa has one of the highest incidences of rape in the world.
Saudi Arabia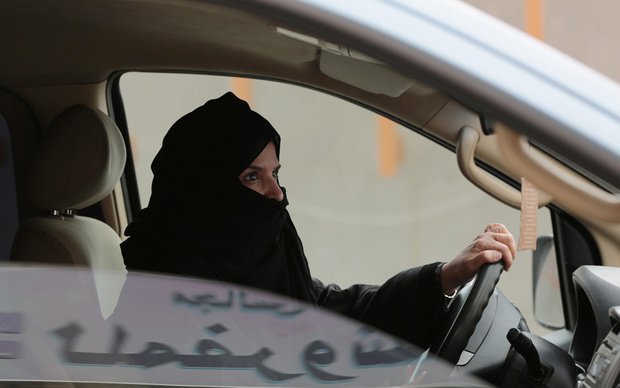 Source: citylab.com
For some years now, women in Saudi Arabia have defied the ban on driving for them and made a statement to the monarchy that it's time for things to change in the Islamic country. Women's rights activists have been arrested for going against the law by driving. However, in what is hopefully a sign of things to come, women in Saudi Arabia have registered as voters this year for the first time in history.
Poland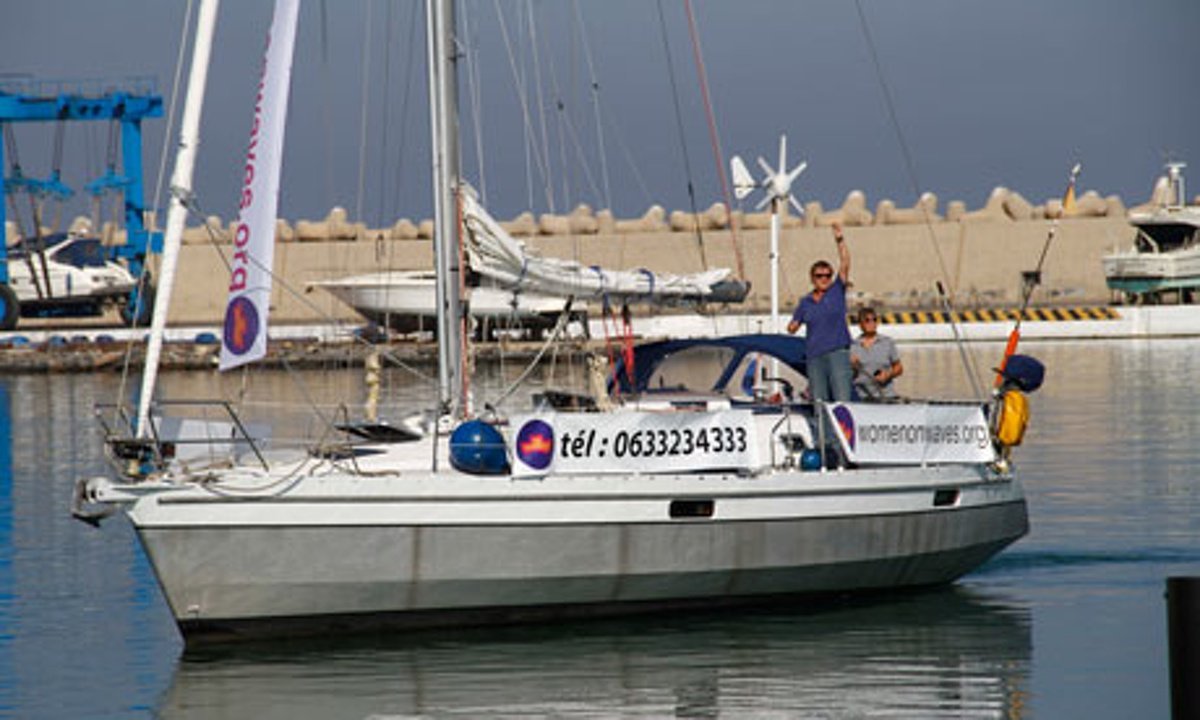 Source: theguardian.co.uk
One of the most well-known campaigns by Women on Waves is the mission to provide access to safe abortions for women in Poland and other countries that criminalise the procedure. On board their ships, women have the freedom to have safe abortions up to 6 weeks of pregnancy, done by doctors and other medical personnel. The procedure is also done legally because the ship is taken to international waters for the abortion, where the country's anti-abortion laws don't apply. One of their recent campaigns was the abortion drone which picks up abortion pills from Germany to a border town in Poland where it is received by activists who distribute it to women in need.
Argentina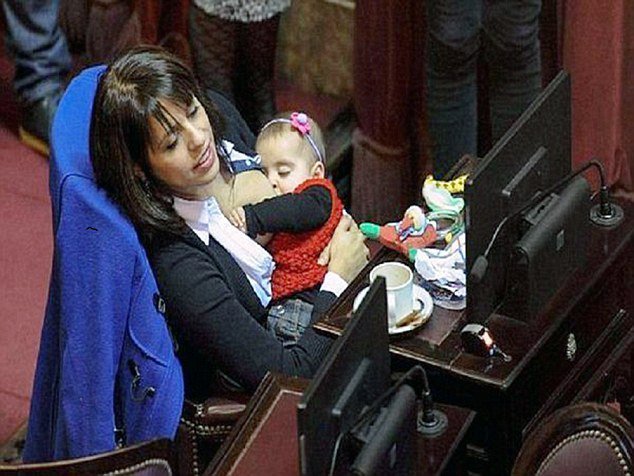 Source: vagabomb.com
Argentinian politican Victoria Donda Perez made headlines when she was photographed breastfeeding her daughter during a parliamentary session. She has been a champion of normalising motherhood, including breastfeeding in public, which is still frowned upon across the world.
Egypt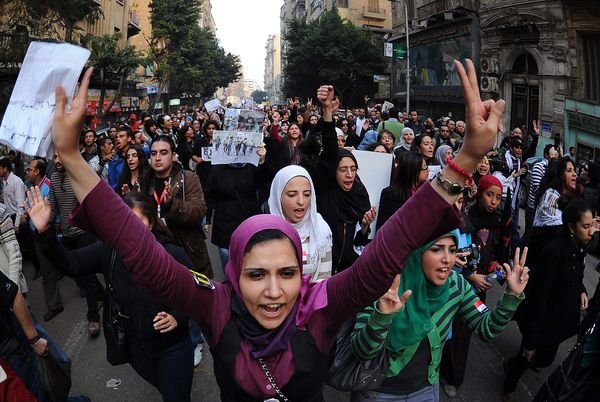 Source: latimes.com
Thousands of women descended on the streets of Cairo to protest against the attacks by government forces on female protesters. Women were reportedly beaten and stripped during anti-government protests in Cairo.
Afghanistan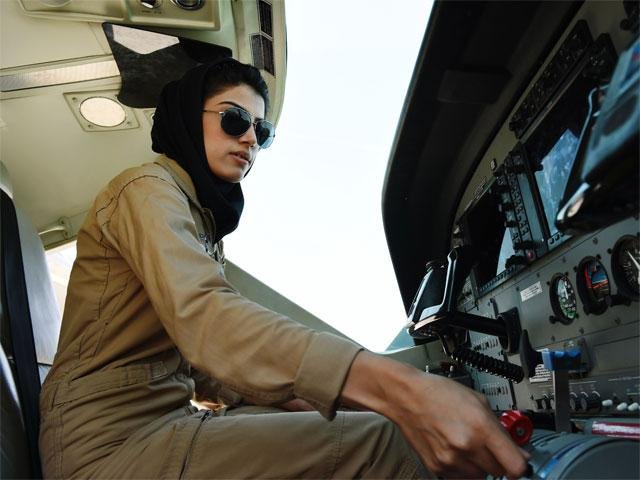 Source: vagabomb.com
Niloofar Rahmani faced threats and the many obstacles of a conservative country to become Afghanistan's first military pilot. She joined the Afghan Air Force at the age of 18, and soon became the poster child of post-occupation Afghanistan.
Pakistan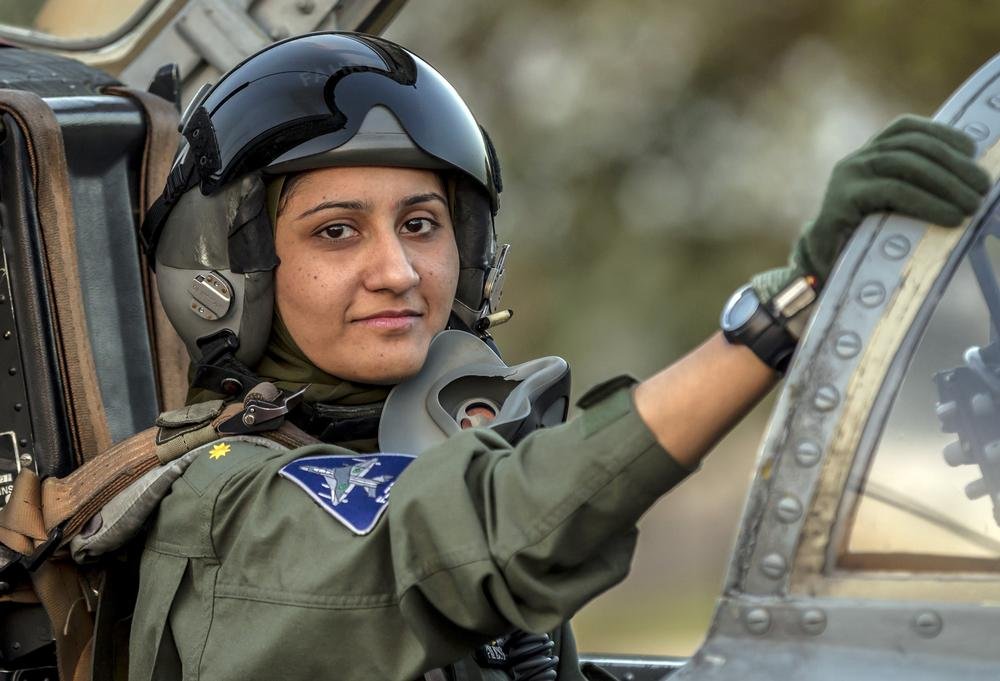 Source: reuters.com
Ayesha Farooq has become the face of feminism in Pakistan. She is the only Pakistani woman who has qualified as a war-ready fighter pilot.
Israel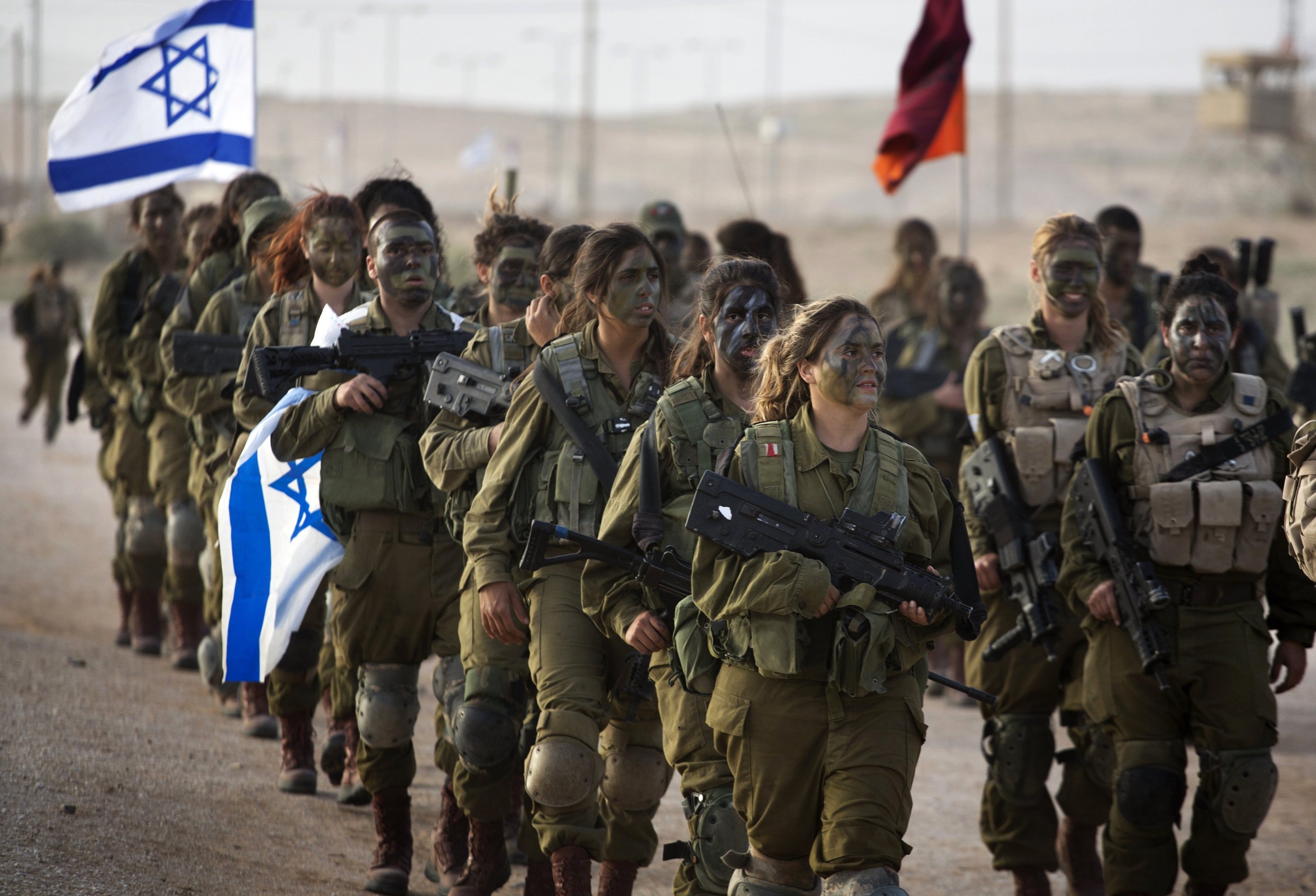 Source: publicbroadcasting.net
Israel is one of the few countries in the world which gives equal opportunities to female soldiers in combat . The rule of mandatory conscription applies to women and men equally. In 2014, the country also appointed its first female combat battalion commander.
Philippines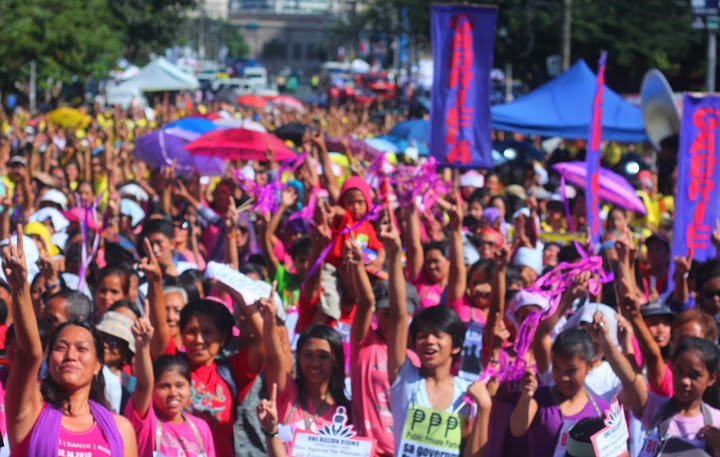 Source: imgur
Women's rights activists and the famous Gabriela party were one of the major participants of One Billion Rising, a movement to stop violence against one billion women across the world. The party which campaigns for women's rights was founded when 10,000 women marched against the ban on demonstrations in Manila in 1984.
Canada
Source: independent.co.uk
Originating in Toronto, the Slutwalk movement resonated with women in every country. The campaign began with an attempt to end victim blaming in cases of sexual offences. Women marched in "slutty" outfits to demonstrate that an outfit, no matter how skimpy, does not say that a woman was "asking for it."
United Kingdom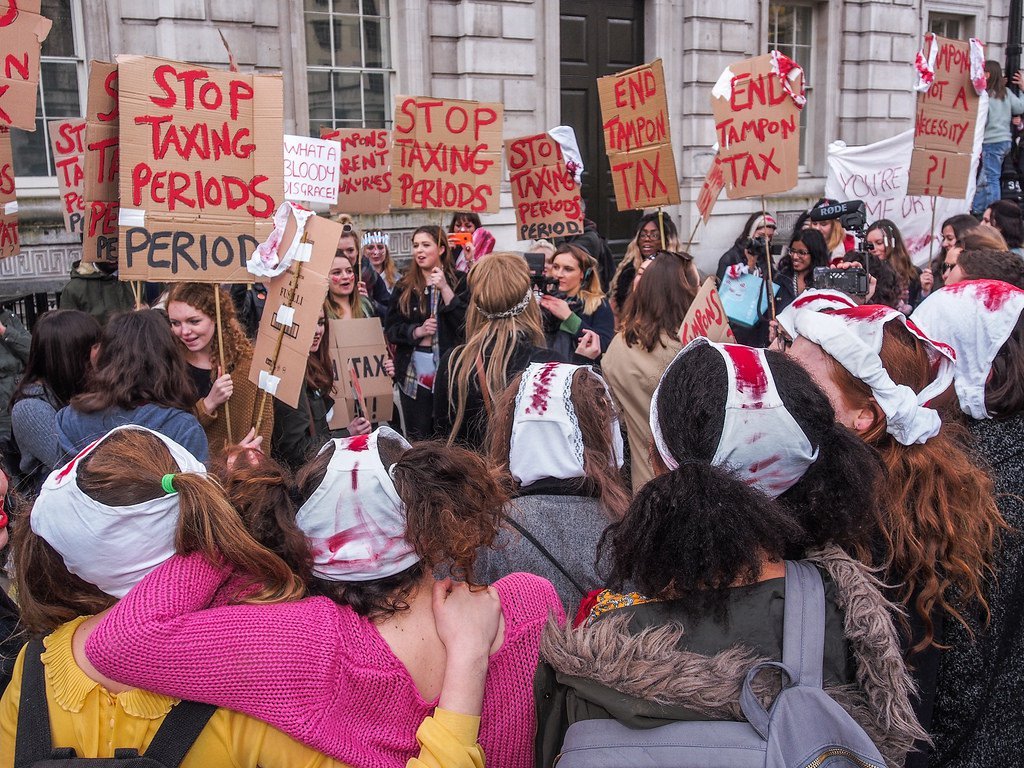 Source: flickr.com
When England decided to put women's hygiene products under the category of luxury items to be taxed, it attracted the ire of English women across the country. Protesting against the tampon tax , women in London gathered outside 10 Downing Street, the Prime Minister's residence, with "bloodied" panties on their heads. While a 5% tax is levied on women's sanitary products, "essentials" like men's razors and crocodile meat are exempt.
Iran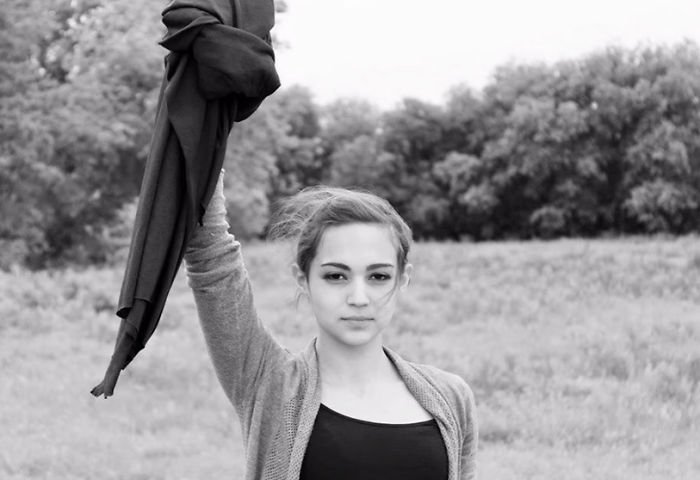 Source: yahoo.com
Women in Iran are required by law to keep their heads covered in public. Those defying the ban, intentionally or unintentionally, are arrested or fined. But Iranian women have now realised that the law is regressive and useless. They post pictures on popular social media websites, defying the law and daring the government to come after them for showing their hair.
Gender equality in every sphere and an end to sexual violence - that's what feminists want. They don't hate men, they just want the world to finally accept women as equals.