Aadmiyon Ki Zarurat Nahin Hoti: Bollywood Stuntwoman on Overcoming Years of Abuse
Pinkvilla has started a series called Heroes of Bollywood, where they go behind the scenes and bring inspirational stories from the film industry, that are easily lost in the glitz and glamour of showbiz.
The first in the series is the story of Geeta Tandon, a stuntwoman in Bollywood. Here's her incredible life journey.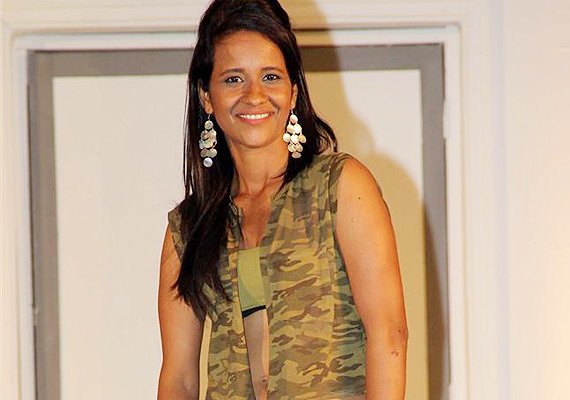 I was born in Kota. My parents had shifted there from Haryana when we were kids. I was in 10th standard when my mother passed away. My father decided to relocate to Mumbai, in search of better prospects. I was 14 when I was married off and had no idea what it entailed.
Barely five days after our wedding, my husband started throwing both tantrums as well as utensils at me. Initially, it all seemed like a joke. When my father broached the topic of my shaadi, I hadn't raised any objections. After all, I understood life in terms of how much television I could watch. A 14-year-old wouldn't know better, would she? I was fine with being 'settled.'For a month, I did not let my husband consummate the marriage. He was a drunkard, and would often pass out by the time he got home. Initially, the fights were fewer, but over the days they got more and more violent. My mind was conditioned to stay quiet and take the pain stoically. A few weeks into our marriage, my in-laws found out that we hadn't made love. The women in the family labelled me 'chaaloo.' When, after much persuasion, I did not relent, my mother-in-law ordered my husband - 'Rape her!' I was petrified beyond my wits but had to eventually submit myself.
A year after that, I delivered my first child. But my husband was far from happy about it. He would brutally beat me up even when I was pregnant. Every day of my pregnancy I saw him pray for a miscarriage. After a point, even I hoped that the child would die inside my womb. I would think, 'What good could come of his birth?' I felt claustrophobic every day, like I was tied up in a jail. I craved for freedom. Chappal, laat mein zindagi beet gayi...
I remember one Diwali, a few guests had come over. One of them asked my husband if I am younger to him. He kept quiet then but when the guests left, he beat me up black and blue. Itna maara ke baaju waale rokne aa gaye. I couldn't get up from the bed for 10 days. When I went to register a case in the local police station, they did not pay any heed.
I was 20 when I left him and moved on. I knew life was over for me, but I did not want my children to suffer the same way. I wasn't educated enough to land a job by myself. People would ask me in interviews, 'aap kya karoge.' I would say, 'main kuch bhi karungi.' I didn't even know what it meant back then.
In life, I have found enough good people and more than enough bad people. I started mixing in Bollywood circles. Friends suggested I try my hand at stunts since I was good at bike-riding and had an edge in action. I was excited about it since it paid well and warranted a life of comfort for my children. Respect was always pivotal for me. I got enough gyaan - 'Aurat ho. Aadmi ka sahara lagega.' But yeh kamzor logon ke dialogue hai. Aadmiyon ki zarurat nahin hoti hai...
Stunts were an absolute blast from the get go. But I suffered frequent injuries. There was a major wound in my spinal cord that rendered me bedridden for three months. My kids were my biggest support in my bad days. I healed gradually, and when I got a call for a big film, I was up on my heels, ready to brace work.
There are few stuntwomen in Bollywood. Women rarely take up this job. Not only is it risky, it is extremely male-dominated. Iss kaam ke liye jigar hona chahiye. Maine zindagi mein itna kuch dekha hai, ki ab mujhe darr nahi lagta.
My life changed for the better when Rohit Shetty offered me stunts for Khatron Ke Khiladi. Mere liye toh God hain woh... I had saved some money from my previous assignments. He was kind and gave me a huge sum without asking any questions. With that, I bought myself a small flat. My joy knew no bounds.
Life has roughed me up a lot, but my faith in God pulled me through it all. I owe everything I have earned in my life to my children. Their support and love kept me going. Quite early on, I realized that life is all about believing that good things will come your way. It is about keeping up the fighting spirit and facing all odds valiantly.
H/T: Pinkvilla