Your Razor Doesn't Need a Gender, Dollar Shave Club Claims in New Ad
While the ad world is still disappointingly regressive when it comes to gender representation, this razor brand outshines in its gender positive product marketing and advertising.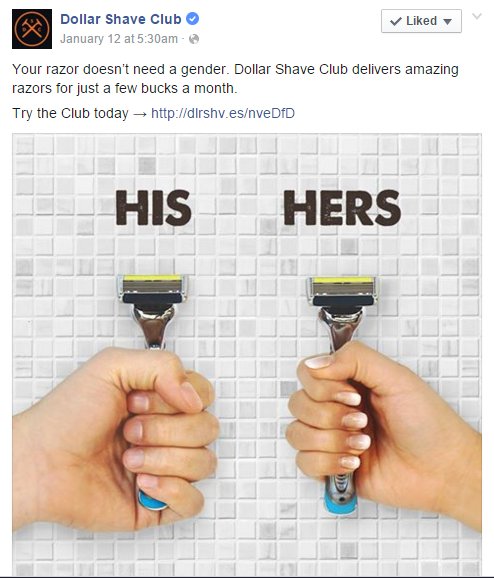 Source: Facebook
If you're a serial razor user (or even if you're not), you can easily tell which razor is for men and which one is marketed to women. It's usually the delicate pastels for the girls and the boys get the bold metallic stuff.
Dollar Shave Club 's latest campaign is debunking this gratuitous gender distinction for something as basic as a razor. Let's face it, when it comes to razors, we basically want the same things - a close shave, smooth skin, good price, and the least amount of irritation.
Dollar Shave Club's marketing campaign to women is inclusive, positive, and so simple, yet it gets the message across in an impeccably brilliant way. Its Facebook ads send a clear message that razors don't have a gender.
Here are some of their Facebook ads, which are giving brands around the world massive gender marketing goals.
Cosmetic and skincare brands, now is when you take note and get cracking.