The Vegetarian's 5-Recipe Guide to Easy and Healthy Eating
If you ask me, the most annoying thing about meeting people you haven't seen in a long time is the quintessential greeting, "You've gained/lost so much weight! Are you dieting?"
We Indians have this unhealthy obsession with diets and weight, which does nothing for us. By focussing on living a healthy lifestyle instead, you improve your relationship with food and the emotions associated with it. Eating healthy doesn't mean you have to dedicate your life to it. If you're tired, the first thing you might reach for is a bag of chips, but if you plan ahead, you could prep your way to one of these five healthy, filling, delicious meals.
All these recipes use just one dish to cook and repeat ingredients so you just need to make one trip to the grocery store. And you won't feel bad not knowing what to do with the other half of your bell pepper or those days-old bananas staring at you. We've got your fruits, vegetables, and whole grains covered.
Warm Apple Cinnamon Oatmeal
Oats are a filling, fibre and protein-rich breakfast, and when cooked the right way, taste like a bowl of sunshine rather than cardboard. With this recipe, you can have the sweet spicy flavors of apple pie rolled into one bowl of warm apple cinnamon oatmeal in less than 15 minutes. It also saves you the trouble of figuring out what to eat for a snack – just squeeze lemon juice over the cut side of the other half of the apple and cover with cling wrap to keep it fresh and avoid blackening. Take the time to enjoy the morning instead of running out the door with a dry piece of toast that leaves you hungry within 30 minutes of eating it.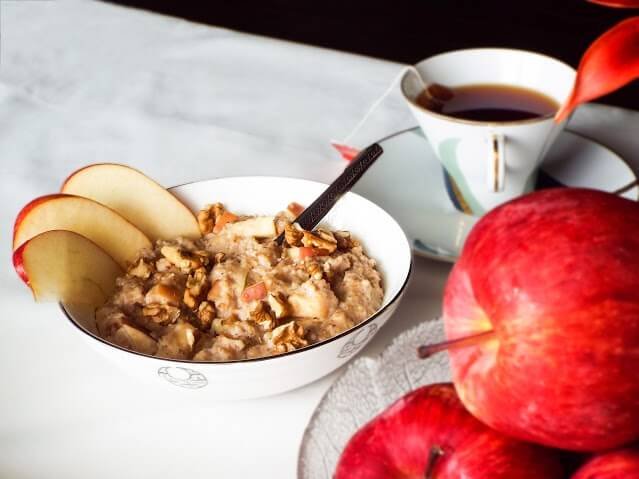 Ingredients:
40gms oats (approximately 1/2 cup)
125ml water (approximately 1/2 cup)
125ml milk (approximately 1/2 cup)
Half an apple, chopped
1/2 teaspoon cinnamon
A pinch of salt
1-2 tablespoons honey
2 tablespoons chopped nuts such as walnuts or almonds
Method:
In a heavy-bottomed pan, toast the oats and cinnamon on low heat for a minute until fragrant, stirring constantly. Be careful to not let the mixture burn. Add the chopped apple, milk, water and salt to the mixture, and stir gently just once to ensure that all the oats are coated well. Allow the mixture to cook on medium heat for five minutes or until thick and creamy. Be sure to check your oats every two minutes to ensure they don't burn and stick to the bottom of the pan.
Transfer to a bowl. Top with nuts and honey.
Serves 1.
Hearty Asian Vegetable Soup
After a long day at work, a hot meal always does the trick. All you have to do to make this nourishing Asian vegetable soup is cut some vegetables, put them all in one large cooking pot and let the soup cook for 30 minutes while you run other errands or just relax. Cutting vegetables can actually be therapeutic, but if you have someone at home to help with kitchen and household chores, making this soup is even easier. It's packed with that authentic Asian flavour minus all the extra sodium and oil you'd be dealing with at a restaurant. Enjoy it on its own or add a boiled egg and a cup of red rice for a complete mineral, fibre and protein-rich meal. The recipe by itself is vegan, vegetarian and gluten-free.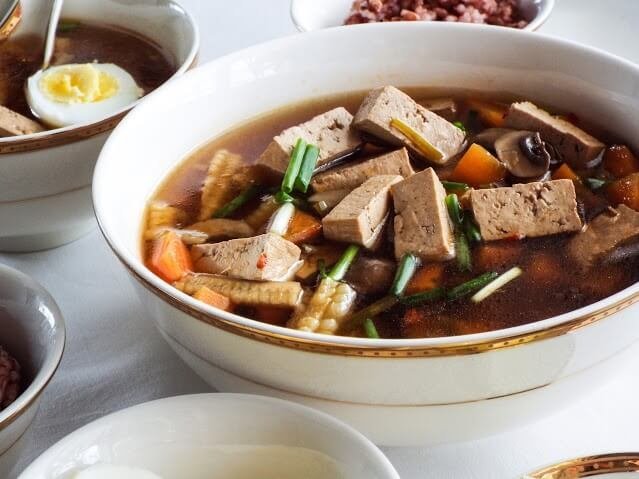 Ingredients:
160gms carrots, chopped into chunks (approximately 2 medium carrots)
180gms mushrooms, sliced (typically one box of mushrooms)
200gms tofu, cut into pieces (typically one packet)
140gms babycorn, cut into long strips
40gms spring onions, chopped
800ml water
4 tablespoons soy sauce
2 tablespoons olive oil
1 teaspoon red chilli flakes
3 tablespoons ginger, chopped finely (approximately one inch-long piece)
8-10 cloves of garlic, chopped finely
Salt and pepper, to taste
Method:
In a large cooking pot, sauté the red chilli flakes, ginger and garlic in olive oil for 3-4 minutes. Add all the remaining ingredients – carrots, mushrooms, babycorn, tofu, spring onions, water, and soy sauce. Cover and allow to cook for 30 minutes on medium heat. Taste and adjust salt, pepper and chilli as necessary.
Serves 3-4.
Detox Asian Rocket Salad
This light and crunchy detox Asian rocket salad is the perfect antidote to your Saturday night drinking binge. Rocket leaves are aromatic and peppery; the tangy dressing and peanuts add a hint of Asian flavours without being overwhelming. Most salads at restaurants are drowned in unnecessary saturated fats like mayonnaise, cheese and an overdose of oils, which negates the whole point of eating a salad. This detox salad is made with crisp vegetables that are super hydrating in addition to being high in antioxidants and Vitamin C. Eat it as a fresh snack or appetizer to any meal or pair it with the hearty Asian vegetable soup.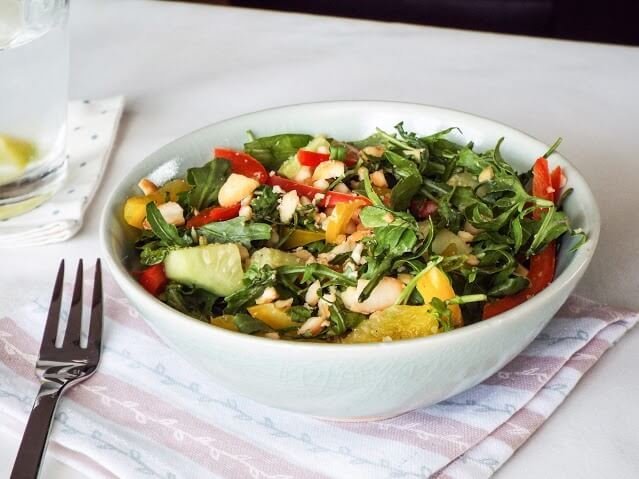 Ingredients:
For the salad:
60gms rocket leaves (approximately 2 large handfuls)
40gms red bell peppers, sliced long and thin (approximately 1/3 pepper)
40gms yellow bell peppers, sliced long and thin (approximately 1/3 pepper)
100gms cucumber, cut into chunks (approximately 1 medium cucumber)
40gms peanuts, crushed (approximately 3-4 tablespoons)
For the dressing:
1/2 teaspoon ginger, chopped finely
Juice of one lemon
1 teaspoon honey
1 tablespoon extra virgin olive oil
A pinch of salt and pepper
Method:
In a large bowl, mix all the ingredients for the dressing. Add in the remaining ingredients and mix well. Serve immediately.
Serves 2.
Dark Chocolate (N)Ice Cream
Even the best of us get hit with chocolate cravings and then regret eating the whole bar of Lindt chocolate or the Magnum ice cream that was staring at you in the freezer. Fix that craving with a dairy-free cup of dark chocolate (n)ice cream instead, with zero regrets and no sugar high (and low) once you finish the bowl. But the biggest advantage could be that your grandmother will stop running after you trying to get you to eat a bowl of fruit! Eat it plain or top with nuts, dry or fresh fruits like cherries and strawberries, coconut flakes or granola for extra energy. For an extra rich dark chocolate, add 1 tablespoon of cocoa powder instead of 3/4th.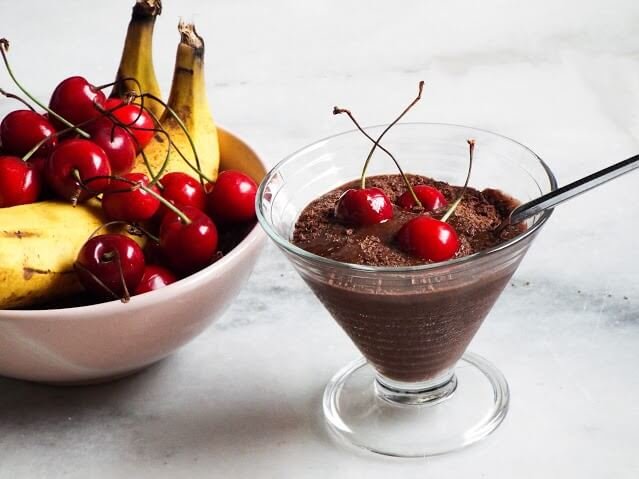 Ingredients:
2 ripe bananas, sliced
3/4 tablespoon unsweetened cocoa powder
1/2 teaspoon vanilla
1-2 tablespoon honey (optional)
Method:
Freeze the sliced bananas overnight. Blend the frozen bananas, cocoa powder, vanilla and honey, if using, until smooth and creamy, for about 3-4 minutes. For a frozen yogurt-like texture, serve immediately. For a sorbet-like texture, freeze for another hour before serving.
Serves 1.
Mediterranean Roasted Vegetables with Quinoa
Ah, quinoa – the super food that just doesn't get old. This one-pan recipe has all the flavours of pizza plus the protein and health benefits of quinoa. Creamy feta cheese, which is naturally high in protein, calcium, potassium and vitamins, brings richness to the nutritional value of the dish as well. For this tomato-based recipe, you can buy readymade tomato puree or make your own by blanching, skinning and blending 3-4 tomatoes. Otherwise, this recipe requires minimal effort – put it all in one pan and allow it to cook while you move on to other tasks. The most important thing to keep in mind when cooking quinoa is to make sure to rinse it thoroughly to get rid of the bitter flavour that acts as a natural preservative.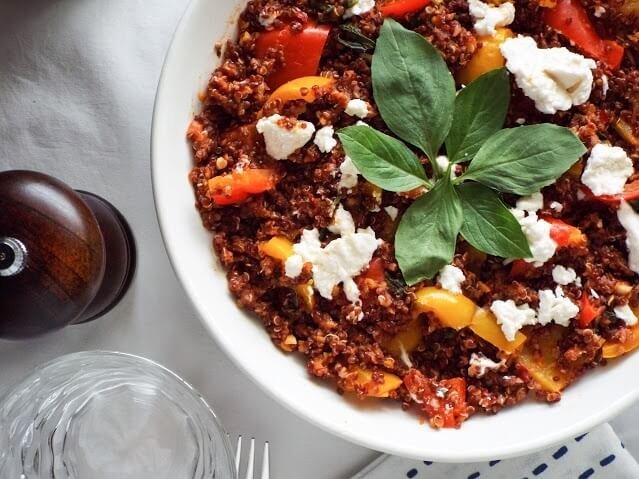 Ingredients:
60gms quinoa (approximately 1/3 cup)
60gms red bell peppers, cut into chunks (approximately 1/2 pepper)
60gms yellow bell peppers, cut into chunks (approximately 1/2 pepper)
100ml tomato puree + 150ml water
15-20 basil leaves or 1 teaspoon dried basil
1/2 teaspoon oregano
1/2 teaspoon red chilli powder
2-3 cloves of garlic, chopped finely
1/4 teaspoon salt or to taste
1 tablespoon olive oil
40gms feta cheese
Method:
In a large pan, sauté the garlic, red and yellow bell peppers with thoroughly rinsed quinoa in 1 tablespoon of olive oil for 2-3 minutes. Add in the remaining ingredients except the feta cheese. Allow the mixture to cook covered on medium-low heat for about 15 minutes until the quinoa is completely cooked and the sauce has mostly evaporated. Check your dish at the 10-minute mark to avoid burning.
Top with feta and serve immediately.
Serves 2.
About the author: Danya Dhanak recently moved back to India after studying at the University of Michigan and working at Goldman Sachs in New York. She shares recipes for healthy international food, and travel tips and guides on her blog, The India Edition.