Londoner Shows Period Shamers the Finger; Completes Marathon Without Tampon
As a team of writers who're considering their first marathon, we already have respect for anyone who's ever successfully trained, participated and completed the physically strenuous process. We've always considered them to be great and awesome. But this woman from London just crushed all existing levels of awesome by completing a marathon, on day one of her period, without a sanitary pad or a tampon.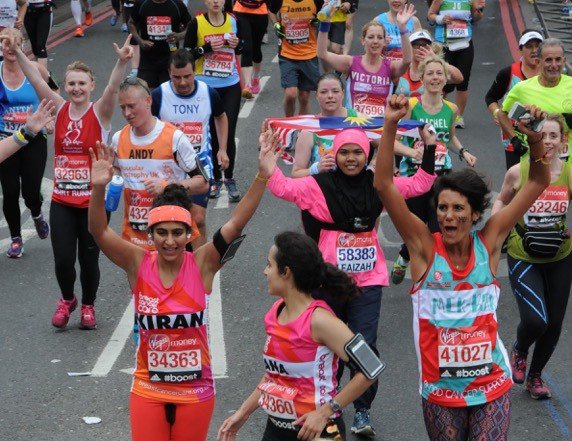 Source: Kiran Gandhi
Drummer and Harvard grad Kiran Gandhi had been training for the London Marathon for a year, but a night before the main event, she started menstruating. She considered the expected options of dropping the idea completely, or 'running 26.2 miles with a wad of cotton material wedged between her legs.' But it was her final choice that made all the difference, because unlike many other women, Kiran decided to 'bleed freely and just run.'
Gandhi ran and completed the marathon with two of her closest friends, while her father and brother cheered in support. After finishing her 26.2 mile run, she documented the entire experience on her blog, which has received praise and appreciation from all parts of the world. In the very well-written piece, she nails every stigma and stereotype associated with menstruation, and her happy marathon pictures prove how satisfied she was with her decision.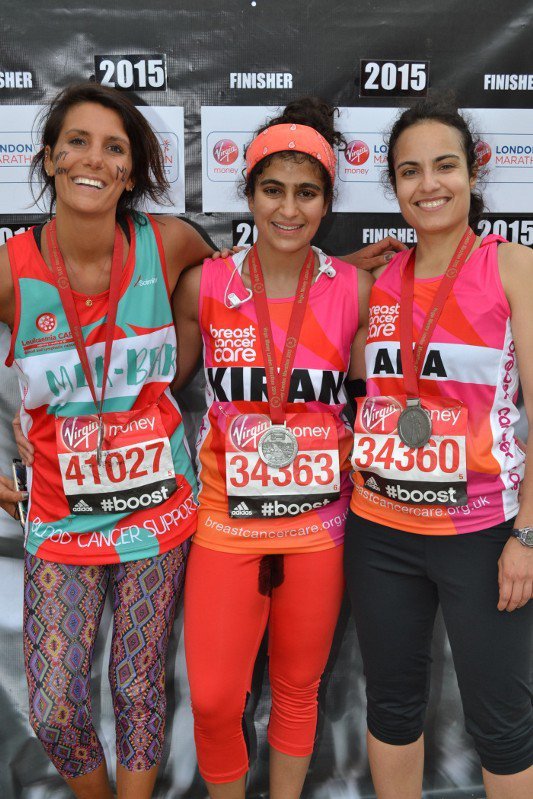 Source: Kiran Gandhi
Even during the marathon, she encountered a period shamer who came up behind her, making a disgusted face, and reminded her, in a subdued voice, that she was on her period. Kiran had the perfect reply, of course: "I was like…wow, I had NO idea!" This incident was just another reminder of why she decided to run. It was also a throwback for us to all the times we've hushed around people telling them we're on our period, or secretly asked friends to check us for stains.
The process was not easy for Kiran at any point, and she writes about how she switched between feeling like a 'a crazy chick who needs to just calm down and reach for an effing tampon' and 'a liberated boss madame who loved her own body, was running an effing marathon and was not in the mood for being oppressed that day' with every passing mile. But she managed to cross every level like the liberated boss madame she proved to be.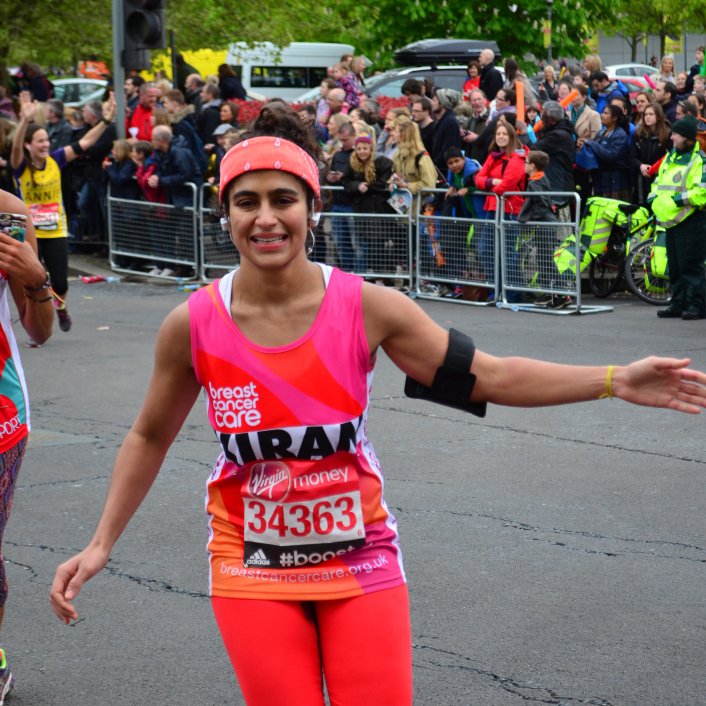 Source: Kiran Gandhi
We've got mad respect, Kiran, because not only have you worked hard at getting a strong, healthy body, but also had the courage to make a statement of this magnitude.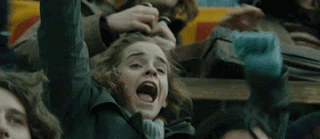 Source: Giphy
Go show this feminist icon some love here .