Meet Powerhouse Advocate Karuna Nundy, Who Is Fighting for the Rights of Every Indian Woman
"My freedom, and yours, are bound to each other and to those around us."
Words that might just define Supreme Court advocate Karuna Nundy's life and work.
Nundy's foray into law began after an unsatisfying economics degree at St. Stephen's College. "Delhi University set us a limited, neoclassical syllabus," Nundy said in an interview to Livemint. "Without enough relevance or accuracy in the real world." Uninspired, she looked for something that would encourage her to fight for those aforementioned freedoms, hers and everyone else's around her. A stint as a television journalist aside, she pursued a law career at Cambridge University, UK, and, finally, found home. "Law school was a homecoming. Law negotiates all sorts of relationships of power, money and coercion—between individuals, between people and companies, companies and companies, and between people and governments. It deals with fairness, independence and inter-dependence quite concretely," she said.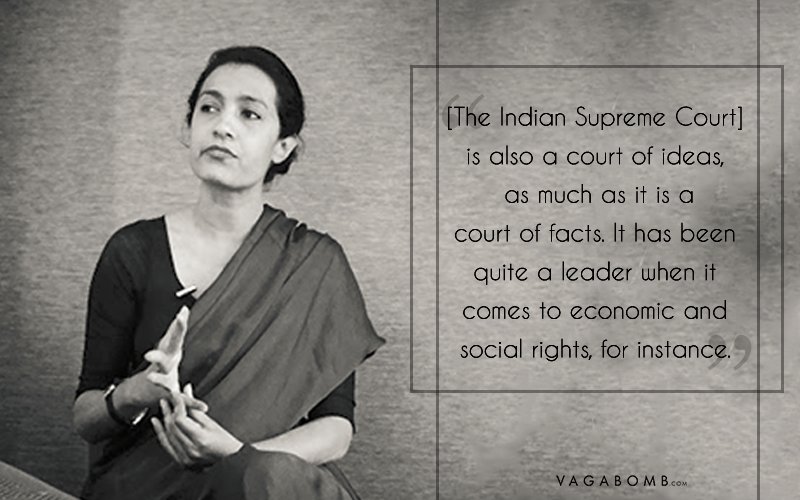 With a fellowship from Columbia University, New York, she got herself some stellar work with international tribunals, and with the United Nations, and then came back to practise in India. Since then, Nundy has made a name for herself as a champion of basic human rights in India, and has been part of several extensive human rights litigation and legal policies.
Seeking justice for the victims of 1984's Bhopal gas tragedy, she said in an interview with The Huffington Post, "It's a poster child of injustice, a festering sore on the world's conscience." She was instrumental in getting safe water to the communities in the area, and cutting off carcinogen and chemical-filled groundwater, as well as getting free and good healthcare for the people there. "Engaging in these cases has also changed me. It's helped me to see the value of something that doesn't have that immediate impact. Instead, I've learned to see the value of persistence in the face of very, very strong opposition. What's being challenged here is the governmental and corporate nexus at its most corrupt. It's very difficult to break through."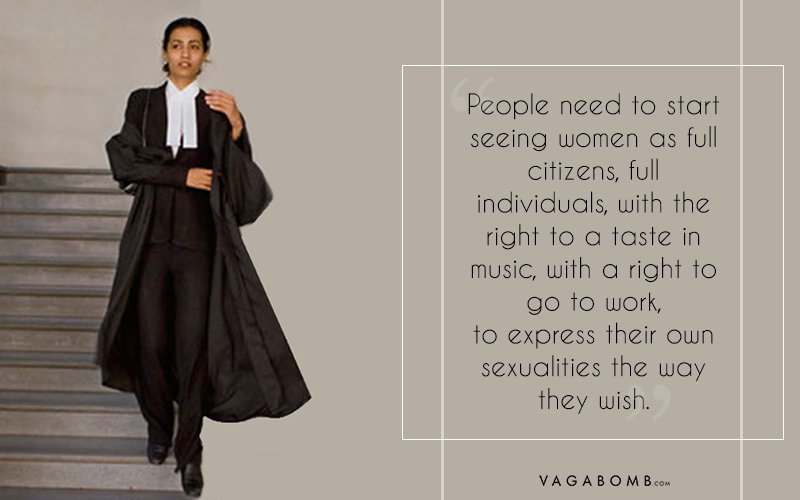 Nundy was also part of the team that drafted what we now colloquially know as the anti-rape law. The Verma Committee, which was appointed by the government, created a bill of rights, and in Nundy's own words, was a "a manifesto for freedom" and "all really inspiring." Of course, as we know, the government didn't use the manifesto, following which Nundy, along with other advocates drafted laws, inspired by the Verma Committee and other places. This led to the passing of the Criminal Law (Amendment) Act 2013, or as we know it—the anti-rape bill.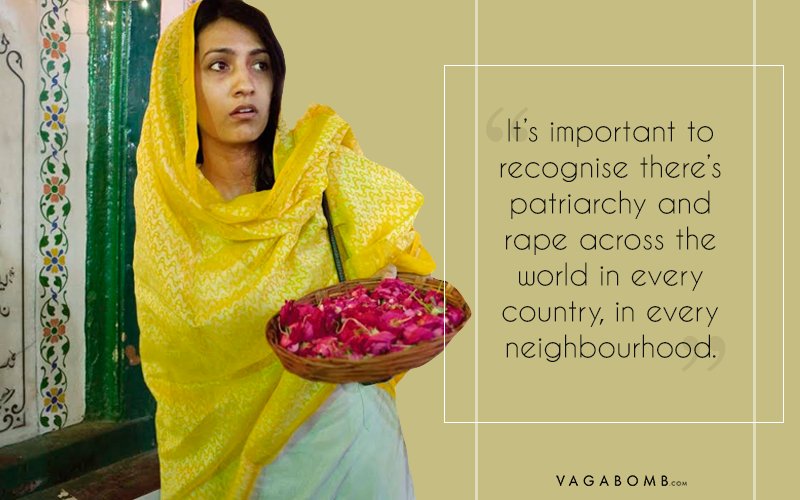 Nundy says that there is still a long way to go, as far as this bill is concerned, but there have been victories too. "One of the wins was making sure that police officers would be held criminally accountable for the reporting of sexual violence. If an officer fails to report a sexual assault complaint, they themselves are now criminally liable. Violations such as stalking and voyeurism were also added [to the penal code]."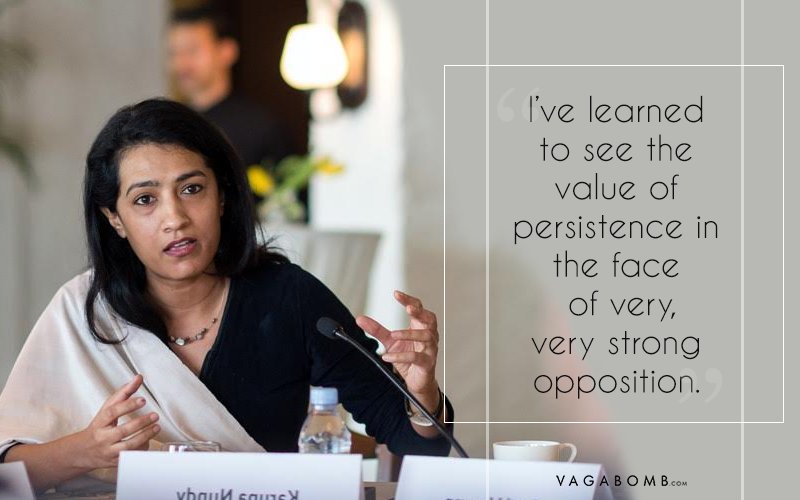 One of the things Nundy is still fighting for, is to criminalise marital rape. "Doctrinally in my mind, it's so clear: Rape is rape. But there has been so much opposition to making marital rape a crime. To me, this is a constitutional issue. Because it's a constitutional issue, it's something the courts should be acting on [though] they've refused to do so on various occasions," she said. She calls patriarchy a public health concern, echoing what so many feminists have been saying for decades. Nundy calls for the government to launch a public education program, to teach kids about consent, sexuality, and what patriarchy is. "Kids need to know that gender is a continuum and that sexuality is a continuum," she says.
One of her major achievements was being able to get Section 66A of the Information and Technology Act struck down, saying it made her feel like she was keeping the hope for justice alive. "A lot of people were being arrested and tried in the online free speech case. The law made speech that people found annoying or inconvenient criminal. Anyone with such a complaint could go to a local police officer and say, 'I find this annoying.' A police officer could then arrest you for that. But what 'annoying' is, wasn't defined anywhere. It all seemed so silly. I didn't think the law would be passed. But it was passed and it was used. It was used frequently."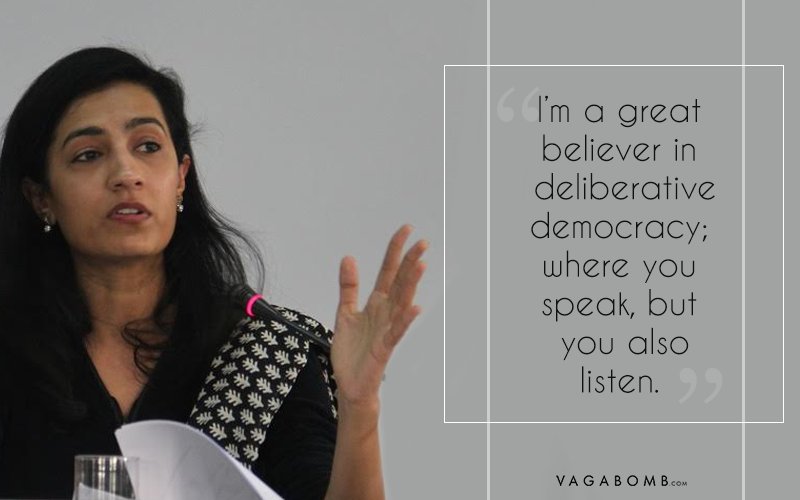 A great believer in what she calls "deliberative democracy," Nundy describes it as a kind of democracy "where you speak, but you also listen. You come through the other side with differences intact, but you also come through together in important ways." She calls this the biggest reason behind her active social media presence. Nundy is very active on Twitter, and was the first Indian lawyer to conduct a Reddit AMA.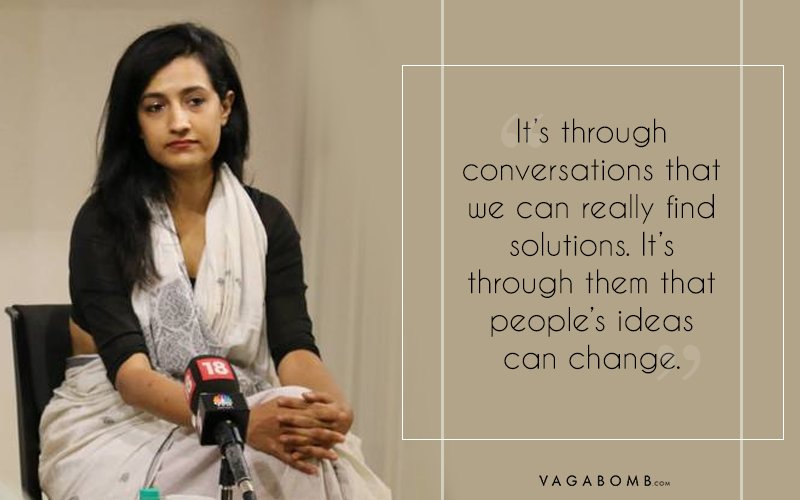 Pointing out the lack of conversation in politics all over the world, she says, "Look at the right-wing politicians and the liberals here in India, or the Democrats and the Republicans in the U.S. — people are shouting at each other so much, they're not talking to each other."
Karuna Nundy has become one of the most respected advocates in the country though, as a woman, she faces her fair share of trolls and haters. Taking them all on with class and intelligence, Nundy has ensured that the world recognises her for the sharp, brilliant mind that she is.
Design by Disha Bhanot