Boys Are Still Preferred to Girls in India, and Things Are Worse in Delhi
The findings of the latest Sample Registration System (SRS) have dealt a huge blow to the laws enacted by the government to prevent female infanticide. According to the report, India still prefers boys to girls and, in Delhi, the situation gets worse.
The government survey has revealed that in India, the number of girls born per 1000 boys has dropped from 909 during 2012-2013 to 906 for 2012-2014. In Delhi, the figure has dropped from 887 to 876. A similar trend can be seen in other states as well. In Tamil Nadu, the number has dropped from 927 to 921.
The sex ratio at birth is considered an accurate indicator for girls missing at birth and in India, things had started looking up. In 2008-10, the sex ratio at birth was 905, that continuously rose to 906 in 2009-11 and to 908 in 2010-12. The decline began after touching a high of 909 in 2011-13.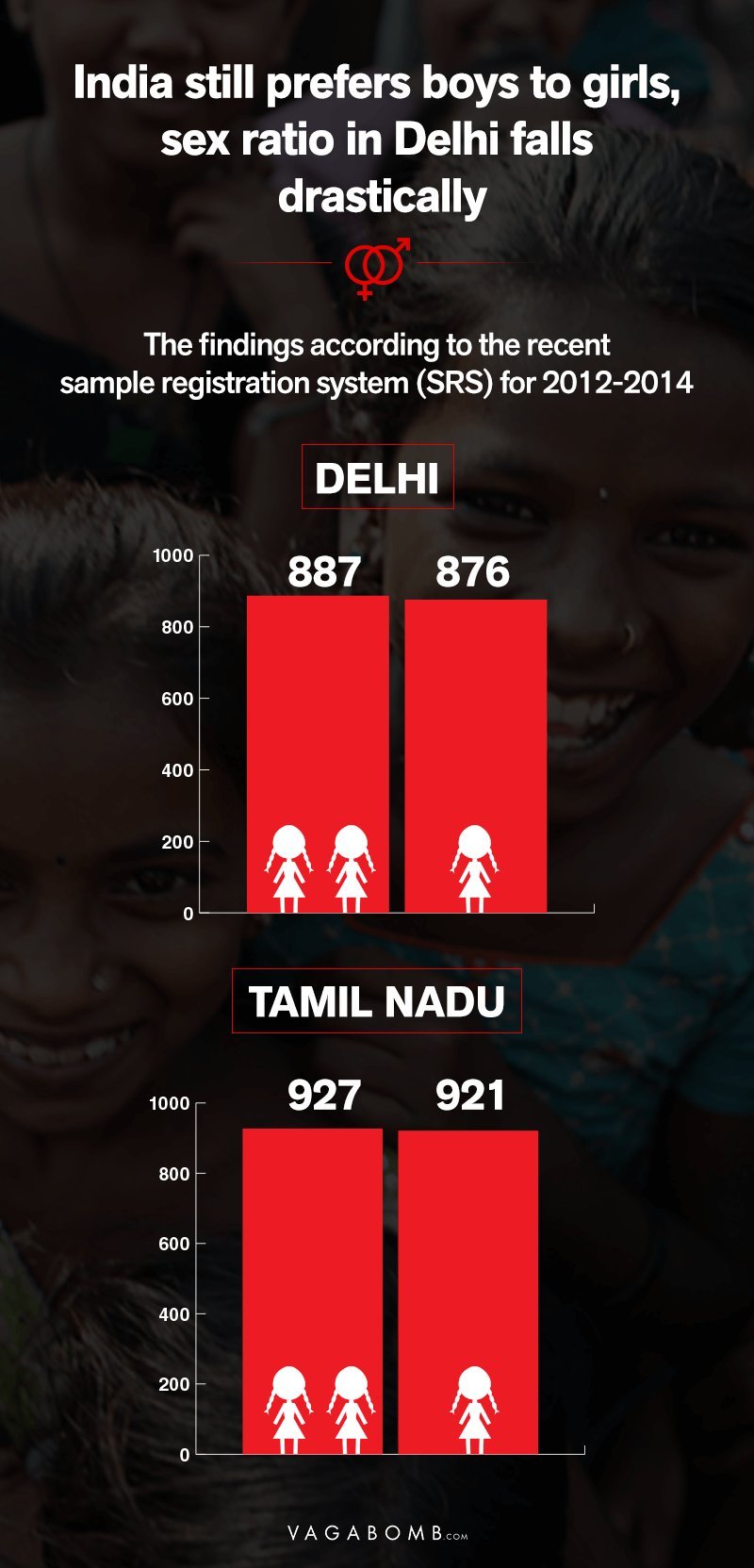 On the other hand, Punjab and Haryana, which had fared miserably in gender equality in the 2001 and 2011 census reports, though still at the bottom, have shown visible improvements.
The Sample Registration Sample, considered one of the most authentic sources of demographic and vital statistics in India, takes into account annual changes in more than 8,800 identified villages and localities.
Prof. P. M. Kulkarni, one of the distinguished demographers, while speaking to The Hindustan Times on the unsettling sex ratio, said, "It is disappointing...We expected things to improve but perhaps there is some deterioration."
However, Prof. Mary E. John, from the Centre for Women's Development Studies, maintains that the statistics reflect what she already witnessed during her many field visits.
The findings have thrown light on two crucial things that still require the government's attention. It is clear that in spite of the best efforts, sex selection is still a reality and a crackdown of clinics which conduct them should be done at the earliest. Efforts to stabilise the sex ratio must also be well thought out.
According to Mary, Delhi's ladli scheme, which provides poor families with monetary benefits to encourage the birth of female children, stands out as a great example in this regard.
She also asserts that the falling sex ratio is not only a result of patriarchy but other factors, like poverty and fewer job opportunities, which might have also contributed to it.
H/T: The Hindustan Times